It's so cold here now I wish I was in Yucatan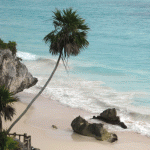 I wish I was in Yucatan. It's this time of year, when the wind whips cold and the snow blankets the earth that my mind and heart turn to Yucatan.
This is the time of year to head out of cold country and head to Yucatan. I yearn for those turquoise waters of the Riviera Maya, the heat of the Mayan ruins such as Chichen Itza, and the warm and friendly Mayan people.
Above, please find a photo of the beach at the Tulum archaeological site. Tulum has one of the best beaches on the Riviera Maya. It's one of many reasons I wish I was in Yucatan now.