When We Were Gods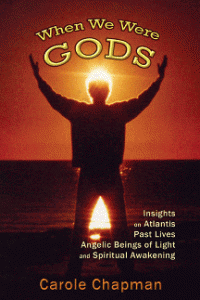 When We Were Gods:
Insights on Atlantis, Past Lives, Angelic Beings of Light and Spiritual Awakening
"Chapman unfolds a personal quest and vision that is not only entertaining, but inspirational."
~ Christopher Dunn, author of The Giza Power Plant
When We Were Gods tells the remarkable true story of a spiritual awakening. When a woman, who works at NASA, goes to a hypnotherapist for weight control, she experiences deep past life regression. As a result, she discovers reincarnation reasons for her tendency to obesity. However, she feels shocked to discover past life memories of Atlantis. Fortunately, when she travels to Yucatan, Mexico, she find confirmation of her strange reincarnation memories of Atlantis. The sculptures of men in feathered serpents' mouths actually illustrate her most frightening Atlantean memory.
Powerful spiritual guides also appear in her hypnosis sessions with messages for her to convey to humanity. They reveal the reason for our present trials and offer hope for the future.
"The writing is professional, the first person approach direct, unselfconscious, and uncluttered. I was interested in reading more—that doesn't happen often."
~ John Anthony West, author of Serpent in the Sky: The High Wisdom of Ancient Egypt
When We Were Gods: Insights on Atlantis, Past Lives, Angelic Beings of Light and Spiritual Awakening (ISBN-10: 0975469118,  ISBN-13: 978-0975469118, ASIN: B006S8F2KG, SunTopaz, 300 pages) is the second revised edition of Carole's first book, The Golden Ones: From Atlantis to a New World. This new edition features 22 photographic images, seven previously published articles, a bibliography and an index. The photos in the Kindle version can be viewed in color. The paperback has black and white photos.
When We Were Gods is available in paperback and Kindle formats from Amazon in most countries. The paperback is also available from many other online retailers as well as select bookstores. If you are ordering it from a bookstore, you will need the 13-digit ISBN (978-0975469118).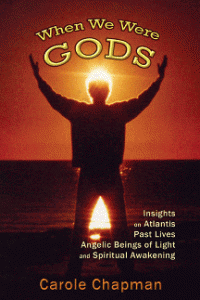 Amazon quick links:
In the U.S. from Amazon.com as a paperback or Kindle.
When We Were Gods is also available in Amazon online stores in many countries throughout the world.