Tales from the Yucatan Jungle
 "Kristine Ellingson's memoir is one of those books that once begun is read to the end knowing the journey will be fascinating. Filled with rich details of both ancient and modern Mayan life, it is also a love story of a woman in love with life, with family, with creativity and with generosity of spirit and exploration."
~ Jane Kirkpatrick, award-winning author of Homestead: Modern Pioneers Pursuing the Edge of Possibility and A Daughter's Walk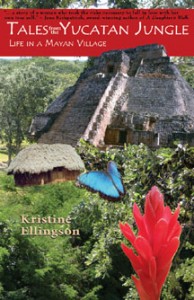 Tales from the Yucatan Jungle:
Life in a Mayan Village
by Kristine Ellingson
Kristine Ellingson was a successful jewelry designer with two grown children and a marriage on the rocks. Kristine needed some time to find direction and meaning in her life. She left her home in Oregon for a trip to Yucatan that she believed would be a stopover on her way to Portugal. Much to her surprise, her stop in Yucatan was not only longer than expected, it was permanent.
Join Kristine as she recounts her journey in finding a new home and family in a Mayan village near the archaeological ruins of Uxmal. From Spanish flash cards to falling in love with a Mayan hotel night desk clerk, a transformation begins both with Kristine and the village. In spite of being an outsider and looking nothing like the Maya—she is tall and blonde—she is accepted by the village and becomes an integral part of their community.
Tales from the Yucatan Jungle: Life in a Mayan Village brings two worlds together and shares glimpses into a sacred, rich Mayan way of life. Twenty years later, and still married to the Mayan hotel clerk who is now her business partner, Kristine shares her real life stories of love, pain, loss, and learning.  She learns that taking a leap of faith can lead to a fuller and more adventurous life.
Kristine allows readers to glimpse a world seldom seen by outsiders. Some of the experiences she shares are:
Being brought back from the brink of blood poisoning death with the help of a "curandero" (a traditional healer)
Learning how to care for dying family members where there are no funeral homes
Buying a daughter for 10,000 pesos
Living in a rural Mayan family compound
Using childhood horseback riding skills at the annual village rodeo or "corrida."
Giving appropriate Mayan weddings gifts—not a blender or dinnerware
Building a house that the villagers think might be a hotel because it is so large
Being fingerprinted when getting married
Surviving the harsh Mexican motoring laws after a traffic accident
Getting lost in Merida, the capital of the State of Yucatan, before knowing Spanish
Striking fear in salesmen when buying a truck because she, a woman, would be test driving it, since in the Mayan world 20 years ago, women did not drive
Participating in a shamanic ceremony to heal the land
Tales from the Yucatan Jungle: Life in a Mayan Village (ISBN-10: 0975469185,  ISBN-13: 978-0975469187, ASIN: B006S8F2KG, SunTopaz, 280 pages). Tales from the Yucatan Jungle is illustrated with 121 photographs and contains a Bibliography and Index. The photos in the Kindle version can be viewed in color. The paperback has black and white photos.
Tales from the Yucatan Jungle is available in paperback and Kindle formats from Amazon in most countries. The paperback is also available from many other online retailers as well as select bookstores. If you are ordering it from a bookstore, you will need the 13-digit ISBN (978-0975469187).
Amazon quick links:
In the U.S. from Amazon.com as a paperback or Kindle.